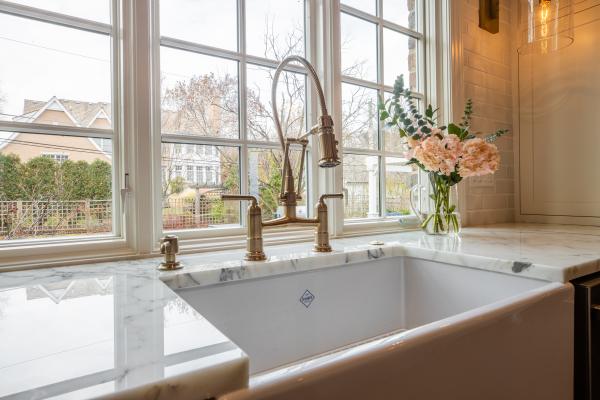 Tell us a little about yourself!
- Hello! I am Mack Tracey, with Ferguson Enterprises. I started with Ferguson back in 2012 as a Sales Management Trainee. I have held several different positions throughout my career, but currently, I run our newest showroom in Tinley Park, IL.
What do you love selling most and why?
- Tough question! But as someone who loves to cook, I love selling appliances. There are so many new features and technologies on today's appliances that make life at home so much easier. From wifi enabled ranges, to steam ovens that cut cooking time in half… If you're still holding on to 20+ year old appliances, you truly are missing out! I also love helping clients find their kitchen faucet. It's the focal point of the kitchen and the piece that ties the whole room together. If you're going to indulge, go all out on the kitchen faucet.
When helping a customer with a kitchen project, what questions do you ask first?
- I think the obvious question in our current environment is "what is your timeline?" With all of these supply chain constraints, availability and lead times are changing DAILY. Unfortunately, a lot of design decisions are being made based on what's available to meet a closing date, deadline, etc. Thankfully, with our size and national distribution network, our clients have access to the strongest inventory in the industry.
What style sink are you selling the most right now and why do you think that is?
- We have been selling a TON of composite sinks, our two most popular brands are Blanco and Elkay. Composite sinks are extremely durable, they are scratch resistant and can withstand very high temperatures from pots and pans. Composite sinks also come in a wide variety of colors, allowing our clients to make some fun design decisions!
What faucet finish is HOT?
- Matte black and brushed gold/brass are the HOT faucet finishes right now. Several faucet manufacturers have even joined the two to make a two finish, mixed metal faucet. Looks AWESOME.
What finish do you see phasing out soon?
- Oil Rubbed Bronze.
What style sink is your personal favorite and why?
- My favorite sinks are composite sinks from Blanco and Elkay. The durability is a huge plus, but the color offerings are what I love most, we have a Blanco composite sink in our own home! We went with a Blanco "Metallic Gray" undermount sink that pairs PERFECTLY with the grey veining in our quartz countertops.
If you had an unlimited budget, what sink and faucet would you put in your dream kitchen?
- Blanco composite (Silgranit) undermount, single bowl sink with the Brizo Rook bridge faucet. My favorites!
Do finishes need to match in your kitchen?
- Finishes do not need to match, there are no rules, this is your space! Although I'm a big fan of consistency throughout faucet, hardware, and light fixture finishes, mixed metal designs are very popular right now.
What is the biggest plumbing mistake you see in kitchens?
- People trying to save a buck by sourcing their own plumbing faucets/fixtures from big box retail stores or Amazon. Plumbing manufacturers make specific SKU's for retailers which have plastic parts and components, unlike the brass, metal construction products that are offered on the wholesale side. Although these retail fixtures may look nice, they are cheap and often fail. If you're doing a kitchen remodel, work with a dedicated professional that can help you throughout the process, we know it can be overwhelming!